Our guide for questions about Scottish Practice Chantern, reeds and accessories!
Would you like to learn the Scottish bagpipes?
Our guide provides information and advice on Scottish Practice Chanterns, reeds and accessories!
Especially for bagpipe beginners and those interested in bagpipes, we have compiled helpful information for you.
To the guidebook for Scottish Practice Chanter
We also offer the Practice Chanter as a beginner's set with textbook at a reduced price: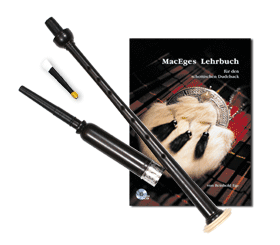 The picture shows a Practice Chanter by RG Hardie, Glasgow as a set together with the best selling German language textbook by Reinhold Ege:'MacEges Lehrbuch für den schottischen Dudelsack'.